Ever hear about a Commander Attilio Gatti and his "jungle yachts?" Picture a couple of streamlined semi-trailers, set up as luxury living quarters, cruising Darkest Africa in 1938 to 1940.
Here's a picture of one of the rigs on its way from the International Harvester factory where they were built, to New York City.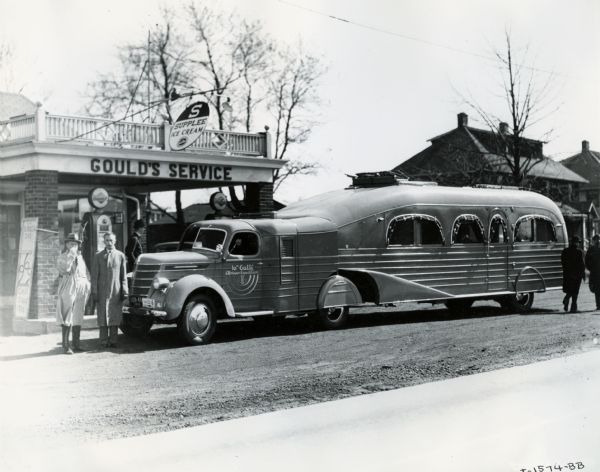 It appears that the truck and trailer are joined with some sort of flexible skin.
This image is from the website of the Wisconsin Historical Society, which has lots more pictures of these unique vehicles.
Italian explorer Attilio Gatti cruised the Congo in elaborate "jungle yachts" during his 10th expedition to Africa between 1938 and 1940. As a sponsor of Gatti's excursions, International Harvester took on the task of building these innovative luxury trailers, which were pulled by an International DS-30 tractor.
When joined together, the 40-foot-long trucks connected to make a five-room apartment with a tiled bathroom, a living room and an electric kitchen—creating a luxurious living space on wheels for Gatti and his wife. Another International D-15 vehicle "served as a permanent home for $35,000 worth of sound, photo and movie material," according to an April 1940 edition of Harvester World.
"On our automotive power hangs the success of our venture in Africa," Gatti said. "I let experience decide and took all International Trucks. I know they will give us great service." And they did, inspiring International Harvester to sponsor another expedition in 1947 and '48.
- See more at: http://www.internationaltrucks.com/trucks/experience/internationalattiliogatti#sthash.pv7cVqkg.dpuf
Source:
internationaltrucks.com